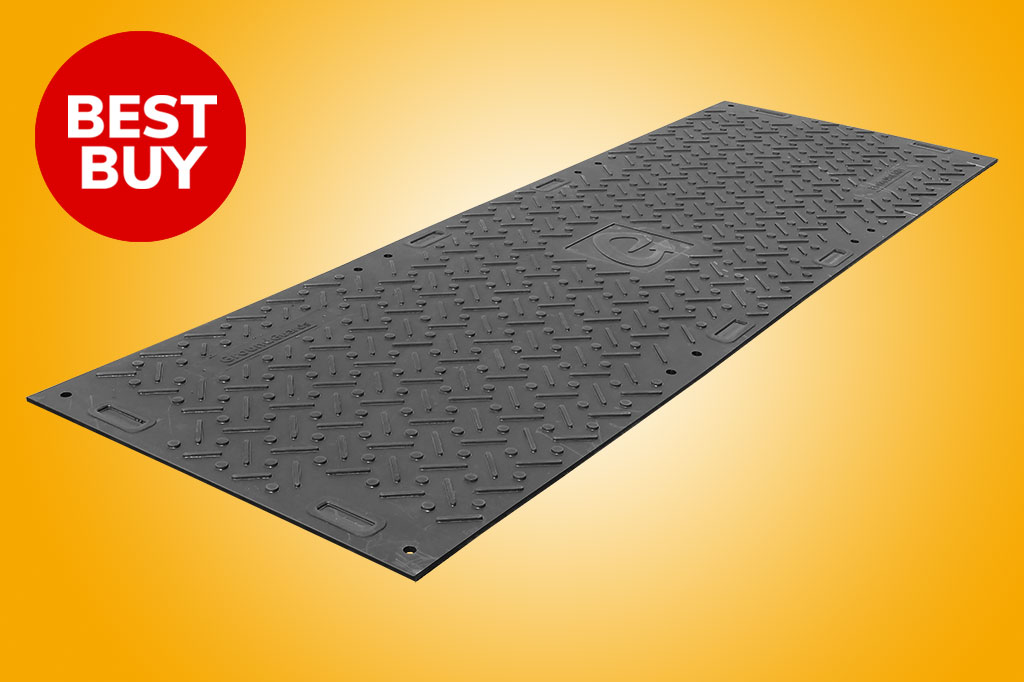 EnviroMat M31 3m x 1m x 12mm
EnviroMat M31 3m x 1m x 12mm
GroundGuards introduced the original plastic trackway mats in 2003, which are still recognised as the most durable mats available. The range has now been joined by the new metric size EnviroMats, designed in Britain, and manufactured in Europe, using an incredibly tough blend of 100% recycled HDPE plastic.
These mats have a host of totally unique features. Your own company colour logo can be moulded in for instant recognition and permanent identification, and their new tread pattern gives increased grip and greater pedestrian comfort.
The new 3x1m M31 mats are vastly superior to traditional 8'x4' mats for vehicle trackways. They can either be joined sideways to quickly form a solid 3m wide roadway, or used lengthways as a twin trackway, providing an extra 0.6m length per mat, at no extra cost!
Please phone us on +44 (0)113 267 6000 for bulk pricing.

Overall Size: 3.0m x 1.0m x 12mm
Material: 100% Recycled HDPE
Slip Testing: BS7976 part 2
Comfortable Weight Loading: 30t
With Caution Weight Loading: 50t
This loading guide is for firm, dry ground. If the weather is likely to turn wet, or the job duration is in excess of a week, please ask for advice about using a more heavy-duty product.
Subject to firm, dry ground conditions, EnviroMat M31 mats are usually comfortable with vehicles up to 30 tonnes UDL (Uniformly Distributed Load). Heavier vehicles up to 50 tonnes may be used with caution for short term access in dry weather. However, it is the user's responsibility to assess the load-bearing capacity of the ground, and to only operate vehicles within the weight that the ground is capable of safely supporting.
EnviroMat M31 mats are guaranteed for 12 months against breakage by vehicles within the stated loading.
GroundGuards Ltd accepts no liability whatsoever for any damage, loss or injury arising from the ground conditions on which these products are used. GroundGuards EnviroMat M31 mats are not suitable to use for bridging purposes. Damage caused by mechanical equipment (e.g. cuts by digger buckets) or falling objects, or sharp protrusions beneath the mats is not covered by guarantee.